Happy Monday everyone and welcome to the week. I hope everyone celebrating Thanksgiving Day had a great time with friends and family and to everyone else, I hope you had a wonderful weekend! As I enjoy doing, let's start with a little "This day in history." Today in 1948 in Boston, the first Polaroid cameras went on sale. Although color photo units didn't arrive until 1963, the units were a big hit. I personally wish Polaroids were still as popular as they were for decades. Read more:
Polaroid Instant Camera Goes on Sale - This Day in Tech History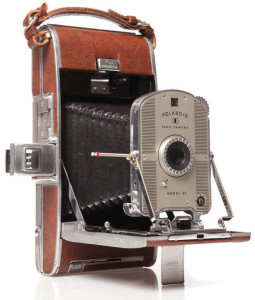 And with that, let's see what's new in the Community.
Announcements
Tracy Rodgers posted a new Tableau Ambassador Spotlight featuring notable Chicago sports enthusiast Jeff Strauss. He's one of my favorite people in our Community so read the interview and get to know him!
Logentries by Rapid7 posted a whitepaper over-viewing their ability to Alert, Integrate, and Monitor with Tableau Server. Check it out!
In collaboration with our Development team, we've added a new status and a new tag to ideas. Read more about it here: Tag!  Learn What Our New Status and Tag Mean for Your Ideas
Tableau is on AWS! Use AWS to host your Tableau Server without having to worry about hardware. See more info here: Tableau + AWS
We've created a Tableau Starter Kit to help you get going with Tableau. Even if you're already comfortable with Tableau, these are great resources to brush up on: Author a Viz | Tableau Software
Recognition
Chris Beck continues to create great content such as this:Currency Conversion with Tableau & Google Sheets. Thanks for documenting great solutions Chris!
Most Talked About Thread
Jenske Meijs was unable to save a workbook to Tableau Public and asked for some help. After different suggestions, Nathan Panuco was able to confirm that there was a Tableau Public service interruption. Thanks for everyone for stepping in to help!
Most Viewed Thread
praveen reddy posted a question in the thread,"How to find iam over booked" and provided a packaged workbook. While the question initially stumped Norbert Maijoor. Him and Sherzodbek Ibragimov were eventually able to work through the question and find a solution. Thanks for the hard work!
Top Voted Idea
A perpetually popular idea took the top spot last week: More Subfolders in Project Folder. If you want to voice your support, be sure to vote up the idea!
Thanks everyone, and have a great week!
-Diego